Two brothers share the same passion for cinema but are divided by the same surname
Director
Roberto Naccari
Stefano Bisulli
Produced by
Paolo Pallavidino
Giusi Santoro
Production
EIE film
POPCult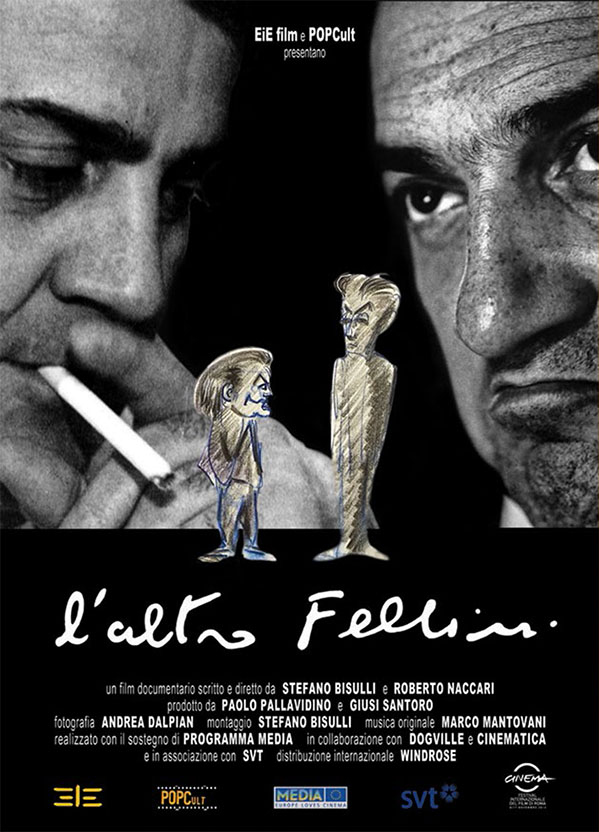 Federico Fellini is the best known filmmaker in the world. Although few people know that Federico had a brother, Riccardo, who was also a director. What nobody knows and which has never been investigated is the complicated relationship that brought them together and divided them, for a lifetime.
Riccardo and Federico Fellini were born in Rimini in the early twenties. They grew up in fascist Italy and got tired of a closed reality lacking opportunities, so as soon as they could, they left for Rome in pursuit of their dreams. Federico yearns to become a journalist while Riccardo wants to become a singer. However, in Rome's newborn Cinecittà they both come into contact with film: one as a writer and the other as an actor. While Federico's career burns brightly, he quickly forges ahead to become one of the leading writers of Italian neorealism: Riccardo is forced, due to an ill-fated marriage, to quickly drop his film career. It's Federico in the early fifties, now having become a director, who offers his brother the opportunity to return to the set giving him a starring role in the film "The Idler" I vitelloni . The film is a great success that launches Federico's career and finally paths the way to Riccardo's return to being an actor. Riccardo nonetheless aims to debut, returning as a director and the event is realized in the early sixties with the creation of "Stories On The Sand" Storie sulla sabbia, a film that is coolly received at the Venice Film Festival in 1963 and that will be the origin that tears the two brothers apart. The reason for the clash is Federico's demand for Riccardo to not use the Fellini name in the film credits. Riccardo's refusal causes a progressive and damaging rift.
In the subsequent years, Riccardo repeatedly tries to pursue his directing career, but finds the doors to the world of cinema barred. After years of disappointment and economic difficulties, Riccardo launches a career as a television documentary filmmaker. He works on the programs: Zoo Folle (Mad Zoo) and Quegli animali degli italiani (Those Italian animals), he's driven by an animal saving spirit, ahead of its time, and achieves some success, consolidating his reputation as a television writer. Riccardo never gives up hope of returning to the cinema and in the mid-eighties it seems that the right conditions are created so he can realize his second film: "Stella cavalla da circo" (Star mare circus); this time, however, the difficulties are of a different nature because Riccardo contracts a mysterious illness. After years of estrangement Federico gets closer to his ailing brother and uses his fame and influence contacting renowned specialists. Alas, every action is in vain, and in March 1991 Riccardo dies. Two years later, Federico gets sick and in a bizarre coincidence he is hospitalized in the same room where his brother died.