An unprecedented view of the human journey and a manifesto of hope for the future
Director
Giuseppe Petruzzellis
DOP
Michele Brandstetter de Bellesini
Giuseppe Petruzzellis
Editor
Giuseppe Petruzzellis
Produced by
Giuseppe Petruzzellis
Alessandro Carroli
Liza Faktor
Andrea Arena
Lisa Fierro
Production
Aplysia
EIE film
VESSEL
Distribution
IMPRONTA film
Festivals
VISIONS DU RÉEL 2023
(Special Youth Jury Award)
BIOGRAFILM 2023
(Menzione Speciale Hera Nuovi Talenti)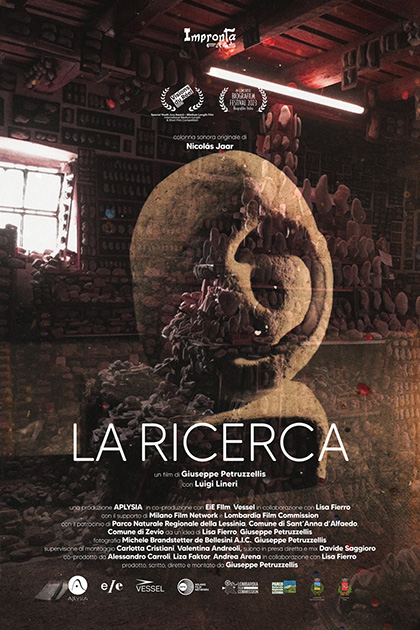 Over the last sixty years, an elderly artist has been working on a monumental collection of stones: La Ricerca.
Exploring the Adige river and the Lessinia mountains, Luigi Lineri has collected and catalogued countless pebbles with human and animal shapes, reminiscent of mysterious prehistoric sculptures.
Evoking mythological images, his artwork pays homage to the struggles of men and women who lived through the infancy of our species, allowing us to become what we are.